How to Prepare for a Trip to Paris: A Pro Organizer's Best Tips + Tricks
Last week we took the kids on our first family European vacation… and it was amazing! Despite a red eye flight and transit strikes in Paris, our trip was perfectly executed. We had incredible meals, even better conversations, saw some of Europe's most iconic sights (hello, Eiffel Tower and Mona Lisa!), and made memories of a lifetime. And this was all possible because of months of planning and prep we did ahead of time. As a professional organizer, I've dedicated some of my best energy to making sure traveling - even several time zones away - can feel like a true vacation, and not another stress-filled, frustrating experience. I'm sharing everything you need to know, including my best tips and tricks, to prepare for a trip to Paris!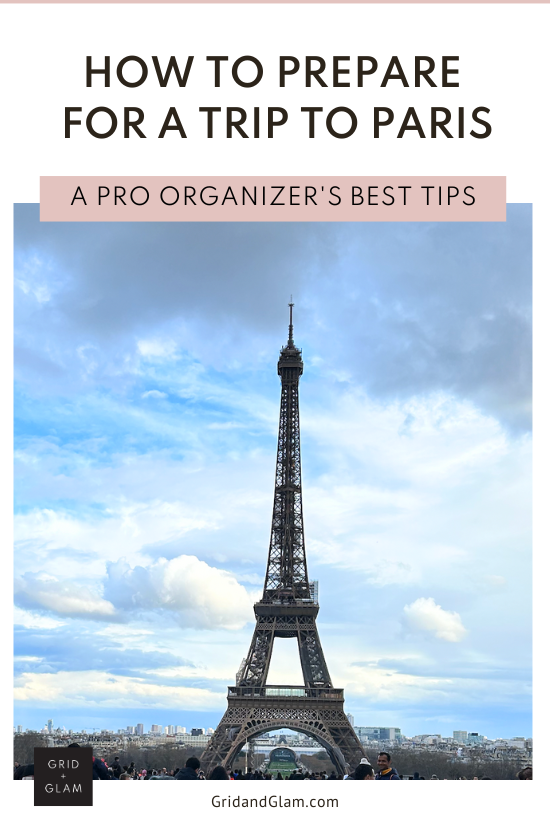 What to Do Before You Go to Paris
Preparing for a big trip does not need to take a lot of time. It does, however, need to take dedicated time. Set aside enough time to focus exclusively on your travel plans. Here's what I did, and suggest you do too:
Brush Up on French

I downloaded DuoLingo and practiced French for 5 minutes every day for months (hello, 217 day streak!) leading up to the trip. I obviously didn't become as fluent as I had been in college, but it was very useful to be reminded of some of the basic phrases that ultimately helped us navigate the city.



Check Passports

One of the first things we did before booking our trip was to check that our passports weren't expired AND that we were in the safe zone. (Some countries won't let you in if your passport is going to expire within 6 months or less of your visit so be sure to check the rules of the country you are traveling to.) While my husband carried the actual passports in his carry-on, I had in my carry-on photocopies of them. In the event of loss or theft, the copy can help you from winding up stranded abroad.



Call the Bank

We wanted our bank and credit card companies to know that we would be in France so there would be no fraud alerts set off when we used our ATM and credit cards. How frustrating would it be to be abroad with a non-functioning credit card? The few minutes it took to make the phone call was so worth it.



Leave Work at Work

Before we left, both my husband and I prepared our teams for our absence. Since I run my own business, this took months of coordination. We got all our essential tasks completed in advance, and then delegated the rest. We knew our teams were in good hands while we were out, so we left our laptops at home and only checked work email (on our phones) every few days. The mental break that this gave us was worth the trip alone!



Create an Itinerary

Listen, when we go to the beach, we have no plans. We just….go. But, this trip to Paris was different. While of course we wanted to relax and recharge, our main goal was to maximize our time, see all the sights, and live life to the fullest. Because of that, we crowdsourced from friends who had been to Paris, put together an itinerary (that I'm sharing below) and purchased tickets in advance. We knew that some museums, for example, are closed on certain days, and we wanted to make sure we were able to check off everything on our bucket list. I highly recommend for a vacation like this, that you plan out as much as you can in advance.



Pack Lightly

When you travel out of the country, and want to look stylish (which I do), I know it's tempting to bring all the things. But, instead, we packed outfits we could layer to accommodate all kinds of weather, and used packing cubes to maximize the space we had. I wanted all of us (including my 9 year old daughter) to be responsible for our own belongings since we were going to be staying in three hotels and taking two trains. By packing only carry-ons (we each had a carry-on suitcase and a backpack), we didn't need to worry about the airline losing our luggage. The downside is that doing this limited our purchasing options, but small souvenirs are just as nice as big ones! To pack this lightly you truly need to plan out each outfit, and not pack extras. But it made switching from location to location super streamlined.



Prep for the Return

Before we left, I made sure our re-entry would be easier by having my housekeeper bring in our mail and purchase groceries on the Friday before our return. That way we'd have fresh food when we arrived and had one less Reset item to tackle.



Buy (only) What is Needed

While we packed light, we still thought of and included all the things we needed for a great trip. Here are some of the essentials:
Adaptors- The outlets in France (and many countries) are different from those in the US. We bought the requisite adaptors so everyone's devices worked all the time - all four of us were able to charge them each night. With one major caveat. My dyson airwarp did not work there (I don't think any hairdryers work with a converter plug) so I found myself at Sephora Paris purchasing a hair wand on Day 2 of our trip. Yes, it was essential!
Easy entertainment- Uno and a deck of cards are small, easy to pack, but lots of fun for everyone.
International cell phone plans- While we wanted to be truly on vacation, and not working while in Paris, we also wanted to stay connected to "back home" just in case. So we bought international cell phone plans to stay in touch. This was just a simple call to our cell carrier and allowed us to stay in touch with each other as well when we split up on the trip.


Maximize Your Enjoyment
We took a red eye to Paris, and made a point of having a very full first day to avoid jet lag, get on local time, and to make the most out of our trip. That pace continued from there and each day we clocked in over 16,000 steps!
We stayed in beautiful hotels and it made such a difference to get a great night's sleep each night after such packed days. France only allows two people to stay in a hotel room and it was such a luxury to be forced to get adjoining rooms so our kids could be in the room next to us. Luckily, my husband was able to get a great deal through his travel benefits at work.


Paris Itinerary
For our seven day trip to Paris, we put together a basic itinerary. We didn't plan out every meal, but we did look at our options days in advance so we'd have some rough ideas of where to eat each day close to our activities. Here is what we did:
Day 1:
Hotel: Hotel Barriere Le Fouquet. This hotel was incredible and has a heated indoor pool, so pack a bathing suit. It's located just off the Champs Elysee, which is bustling and fun. It's also close to a very convenient metro line and is just steps from the L'Arc De Triomphe.
Activities:
Rodin Museum. We dropped our bags at the hotel and got a quick bite to eat at Cafe George V, which became our neighborhood spot. We ate there three times over four days. We then hopped on the metro (it's very easy to navigate) to get to the Rodin Museum. We had purchased tickets in advance but they weren't timed. We spent a couple hours at the museum before heading back to the hotel to check in and rest for a bit.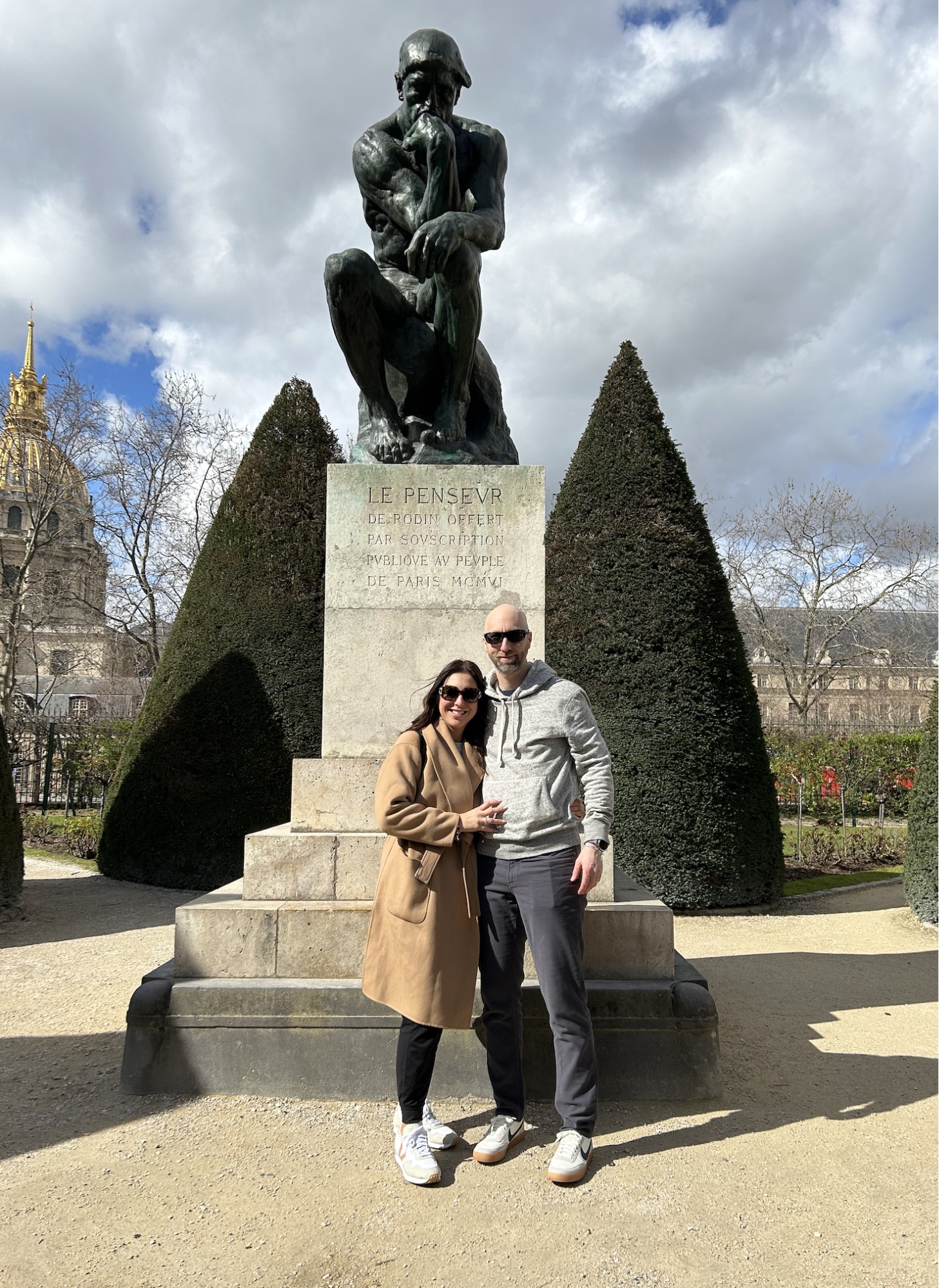 Seine River Cruise. We then took the metro to the Eiffel Tower and it was incredible to get our first sighting. We walked to the boat and since it took us a bit longer than we expected, we didn't have time to grab our sandwiches ahead of time. Since we had purchased them as a part of our boat ticket, we assumed we'd get them on the boat. They were actually at a cafe just across from it, and we were able to use our vouchers to grab them once the cruise finished.


Day 2:
Activities:
Jewish Walking Tour in the Murais. We booked a private tour to walk around the Murais and learn about the Jewish history in Paris. I was surprised to learn that France has the third largest Jewish population after Israel and the US. Our tour guide Livia was amazing and I highly recommend this!
We had heard about Miznon Restaurant and were lucky to wrap up our tour just as it was opening. It was worth the short wait, but check the menu first. We loved it, but the food is not for everyone!

That night, the boys went to see a PSG Game @ Le Parc des Prince. Good thing I can read French because there was a last minute time change of the game from 7:45 to 5:45 that my husband was notified about via email. While the boys went to the game, my daughter and I went to the hotel pool, went on a little shopping spree on the Champs Elysee and had a girls dinner at … Cafe George V.
Day 3:
Activities:
Paris Muse Clues Louvre Tour. We got up early and took the metro to the Louvre where we met our private tour guide. She had access to a special entrance, so while we did have to wait in line, it was a much shorter wait than the main line. That alone was worth it, although since my husband and I had both been to the Louvre before, we were undecided as to whether having a guided tour was actually helpful. We opted for the shorter tour and it was plenty long.

Despite being exhausted, we powered through and took the metro back to our hotel and then headed straight for L'Arc De Triomphe. It is totally worth the walk up the 284 steps to see the sights at the top. Truly breathtaking.
Meals: Cafe de Flore. We had lunch at this iconic cafe and since we were willing to eat in the covered terrace, as opposed to the more desirable sidewalk tables, we were seated right away!


That night we had another iconic meal at La Fountain De Mars. It was a total French experience. The food was amazing and even the kids loved it. Our hotel concierge had made a reservation, which was a must! You can't eat there without a reservation.


Day 4:
Activities:
Versailles Bike Tour. For our last day in Paris before heading to Provence, we did a full-day bike tour at Versaille and it was incredible! We took a cab to meet our tour group and then hopped on the train to the town of Versailles. Once there, we shopped at a market to purchase our picnic lunch. We then got fitted for bikes and rode through the town of Versailles to the palace grounds. This was amazing, but riding through the town can be harrowing. Our 9 year old was a champ, but I could see this being very intimidating for younger kids, even though they have small bikes.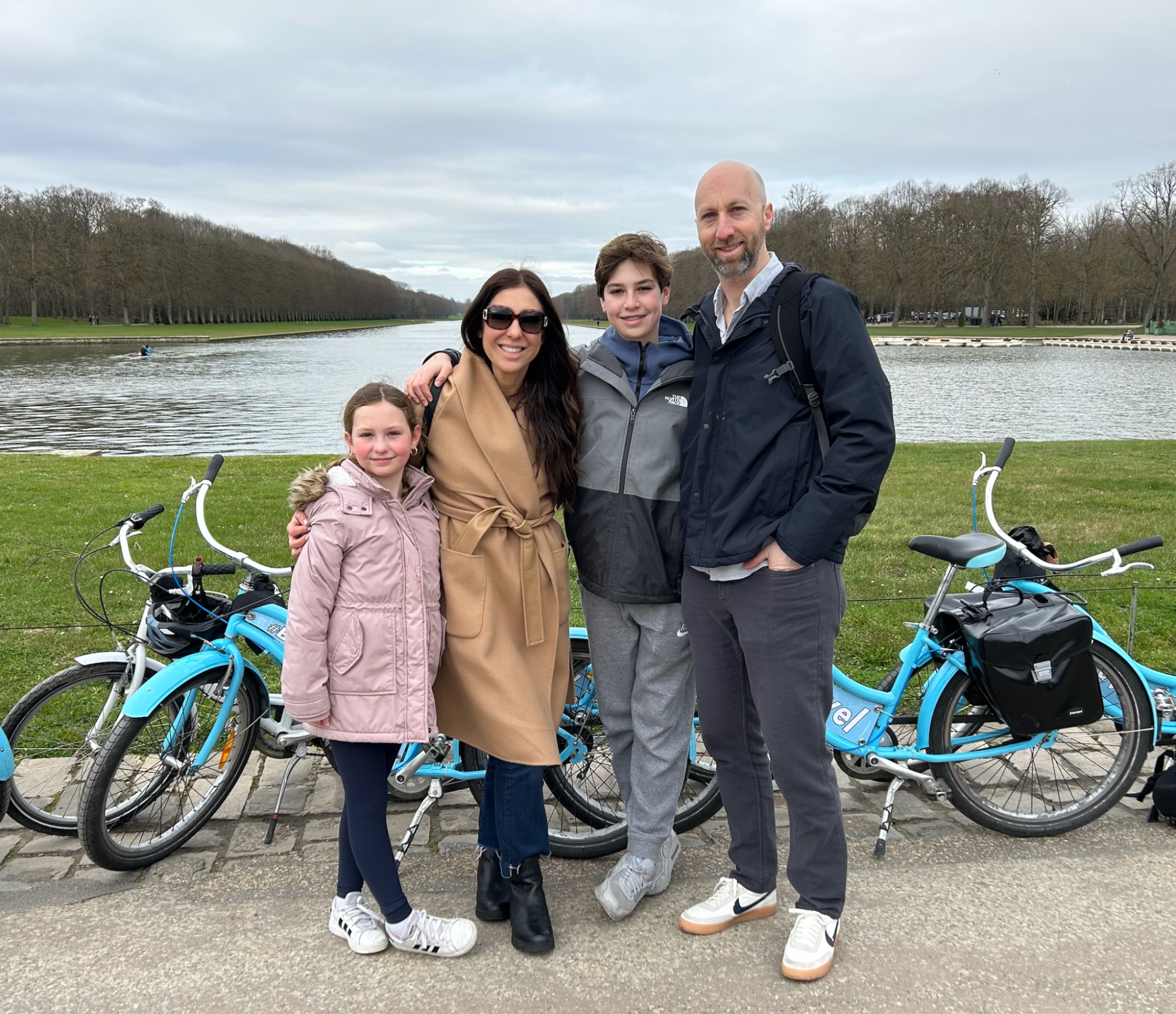 We were exhausted after a full day and decided to cancel our fancy reservation and popped into a casual restaurant for dinner once we got out of the metro back in Paris.


Day 5:
In college, I studied abroad in Aix-en-Provence and I was so excited to revisit the town and show it to my family. We took a train from the Paris Lyon Train station to Aix-en-Provence. You have assigned seats on the train and there is plenty of room for carry-on luggage so you only need to get to the station about 20 minutes before departure.


Hotel: Hôtel Le Pigonnet. We had unknowingly booked the biggest suite in this hotel and were greeted with a bottle of champagne, madeleine cookies and mango smoothies for the kids. Our room had a private terrace with sweeping views of Mt. St. Victoire, the mountain made famous in Cezanne's paintings. The Provence air juxtaposed to the bustling city of Aix was just as magical as I remembered.
Activities: We had no formal plans in Aix other than to walk on Cours Mirabeau, and visit Le Fontaine des Quatre-Dauphins, which is on the street I lived on. My favorite cafe, Les Deux Garcons, was closed for renovations. But we stumbled into Rose et Marius where I purchased a gorgeous lavender candle, and we got madeleines from the famous Madeleines de Christophe, which were one of our favorite treats from the trip. I highly recommend a stop into Maison du Nougat if you like nougat. We purchased some that we polished off before the end of our trip.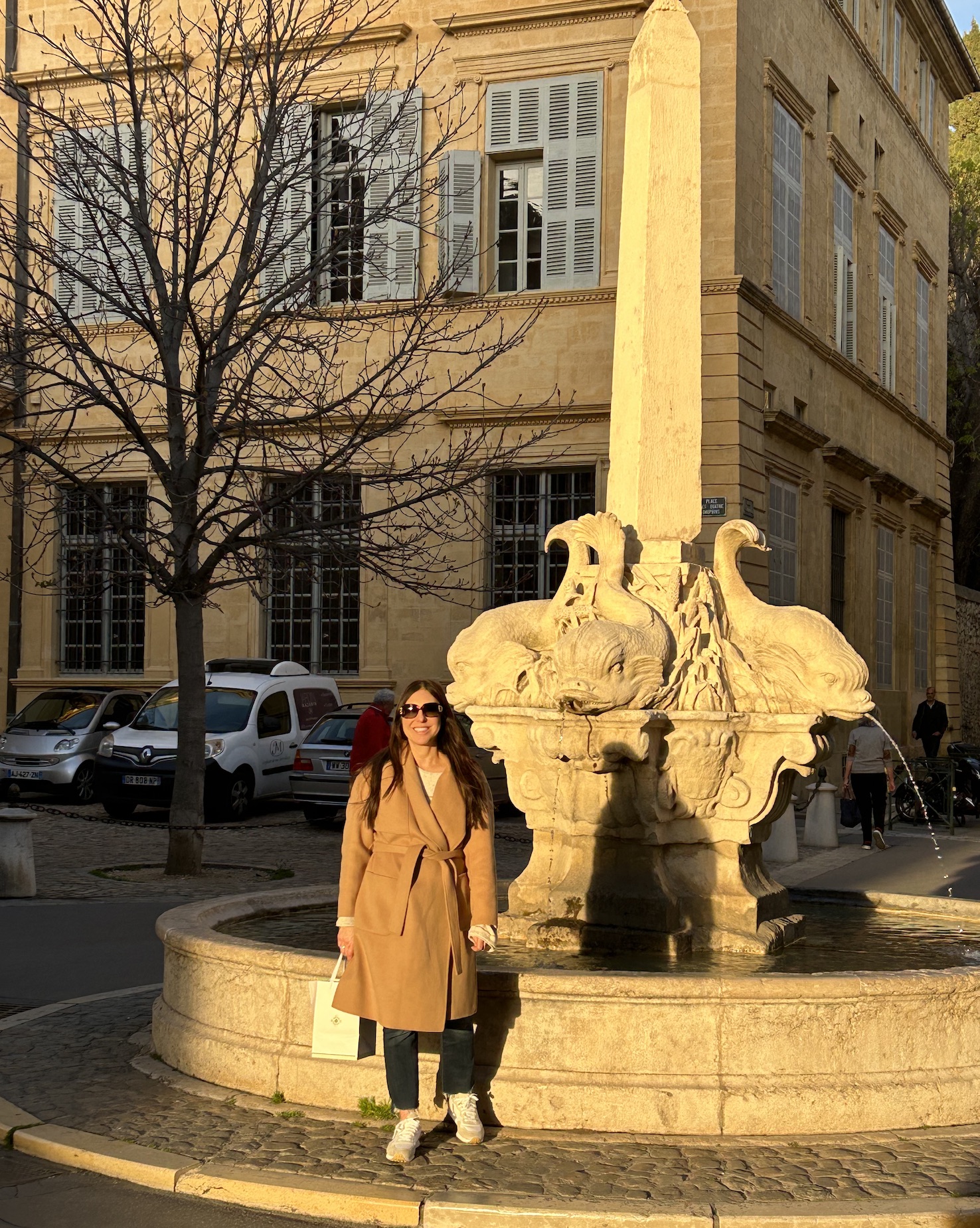 Our hotel had an amazing restaurant but the kids were not interested in dining out that night. So we picked up food for them and headed back to the hotel. They ate in the room, while hubby and I had an incredible date night!

Day 6:
On our final day in Aix we tried to go to Atelier Cézanne but it was sold out once we got there. If you plan to go, get tickets in advance. There are so many great restaurants and cafes in Aix, that you really don't need to plan your meals in advance.


Day 7:
We woke up and took a cab to the train station for our final day in Paris. We dropped our bags at the hotel, Sofitel Le Scribe Paris. The hotel was phenomenal, but the location could not compare our first hotel on the Champs Elysee. We took the metro to Musee D'orsay. We actually purchased online tickets while we were waiting in line so that we didn't have to wait. We were pretty impressed with this move! At this point we were all pretty exhausted, but the hour or so we spent there was totally worth it.

After the museum, we found a funky local bistro back by our hotel and enjoyed our last Parisian meal.


The Return Home
We set our alarms for 6:45 am, got in a cab and headed to the airport. The border control and check in lines took much longer than we anticipated. We got to the airport 2.5 hours before the flight departed, but I wish we had had an extra 30 minutes.


The flight home was a bit adventurous, with an in-flight medical emergency. But the Delta flight attendants handled it beautifully. We landed around 2 pm on a Saturday. To avoid jet lag and get back on local time, we worked together as a family to unpack as soon as we got home, do the laundry, and start on a the Sunday Reset® (click here to learn more about the Sunday Reset!).


Reflections
This was truly the trip of a lifetime and we had so many reflections, but one of the biggest takeaways is thinking about how we use our time. In a given week, how much do we actually accomplish? How much life are we living? During this one week in France, we maximized every moment. Even if it was simply relaxing on the terrace, reflecting. We had great conversations, we got great sleep, and we saw pieces of history. It really felt like we had more time because we were spending every moment so well.
It really made me reflect on how many unproductive things we do (like scrolling Instagram or watching TV) every day, and how much more life we could live if we used that time to more expansive experiences. Our family goal is to bring a sliver of that into our day-to-day to create the most fulfilling lives we can… until our next big adventure!
To learn more travel tips from me, download my FREE Vacation Packing Checklist!