Kitchen Makeover Reveal: Before + After
Friend, the kitchen makeover reveal is finally here! I've been so excited to show you the before and after of our kitchen transformation! This project has been a labor of love and it's taken some time… but it's finally ready for you to see. And I'm including all of the details and links below. Eek!
I hope this kitchen makeover and pantry refresh inspires you today. Remember, even the smallest of changes can have the biggest impact. And, well, the big changes have a pretty amazing impact too. See for yourself!

Before the Kitchen Makeover: What We Started With

My husband and I moved from an apartment in NYC into our home in the suburbs of Boston in 2011. Our son was 18 months old at the time and my husband got transferred to Boston for work. Since we knew that we would likely expand our family even more, we opted for a house in the burbs over city living.
The house wasn't even finished being built when we purchased it. We had owned a condo before, but never a house. We didn't know the first thing about owning a home in the suburbs, or having this much square footage, so we opted not to customize anything. I loved everything about the house when we first moved in. But over the years, as I've refined my personal style, I've made minor tweaks throughout the house (and one major renovation when we finished the basement) to better match my evolving taste.



The last big project in my mind (for inside the house at least! I'm cooking up something for outside…) was a kitchen refresh. My goal was to create an updated, elevated space that was more in line with my aesthetic without doing too much internal renovation. Because let's be real… I could not live in chaos for months and months on end. And the kitchen was in great shape and functioned so well for our lives. I just wanted it to look and feel more glam.

For the renovation, I chose a few key areas to prioritize: the cabinets, countertops, backsplash, and appliances. Of course, I had to have a little design fun too! All of the items that were removed and usable were given to a friend to help with their own kitchen project so nothing was wasted, which felt really good.


Kitchen Makeover Reveal
Drum roll, please! After months of planning and about 14 weeks of off-and-on work (with about seven days total of not being able to use the kitchen), I'm so happy to reveal the final product. I seriously love it so much!


Let's break down all of the changes. First, we took down the valance and painted the cabinets. To give an illusion of floor-to-ceiling cabinets without having to completely replace them, our contractors built a custom soffit above the cabinets and put on a new crown molding. This was the part of the project I was most excited about, believe or not. I never loved that the cabinets didn't go all the way to the ceiling, but I didn't actually need more storage space. So the soffit did the trick!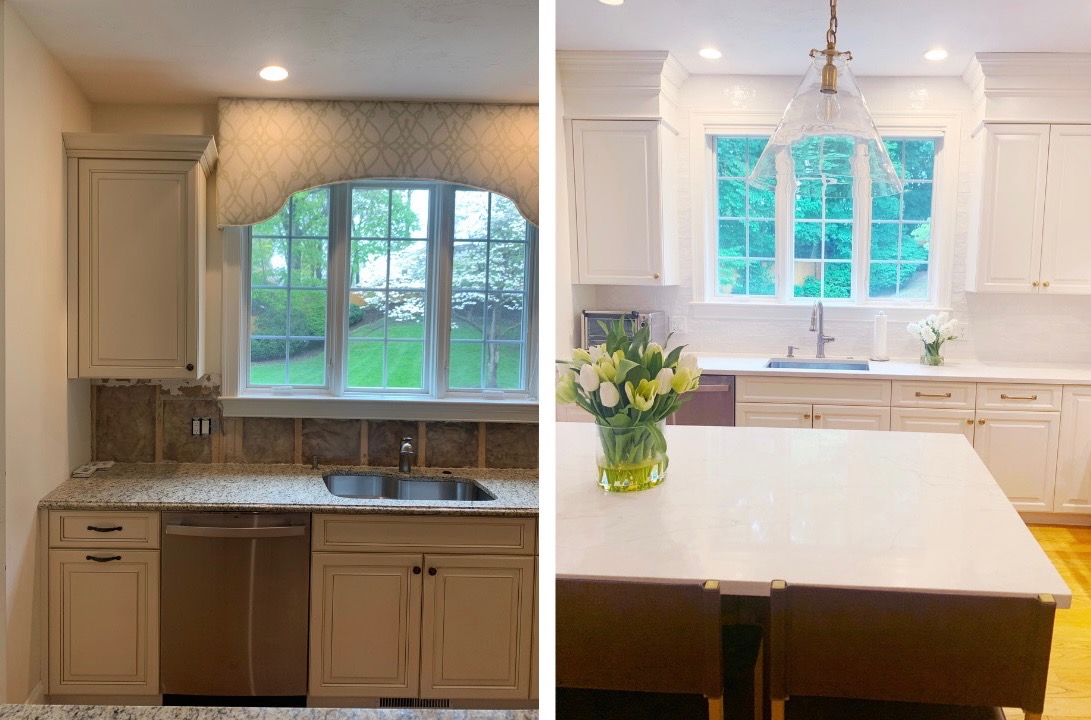 We knew that swapping the existing granite countertops for a lighter quartz countertop would brighten up the whole kitchen - and it sure did! Since we were going with a whiter look, we had the old tile removed, and installed a new gorgeous backsplash. The shiny, glam tile makes my heart happy.
Two of our appliances also got an upgrade! We put in a new stove and a new sink. The stove is the same exact size as our previous one, so it fit perfectly. However, the new one is a double oven. While we don't cook a ton day-to-day, we do love to entertain and we host Thanksgiving. This upgrade will allow our hosting to be much more efficient!


On the decor front, we changed out our light fixtures for a more modern look. And I always hated that not all four of us could sit at the island for breakfast or a casual dinner. So we found new stools that are a bit slimmer so all four of us can sit at the island now! My requirement was that they had a back (comfort over everything, always), so our options were limited. I loved the ones we found but the brass was much darker than the brass on the kitchen pendants and new knobs and pulls. So we had them custom painted with Verometal paint to better match.


Pantry and Mudroom Makeovers
In addition to the kitchen, I also refreshed our mudroom and pantry. In the mudroom, I switched out the hooks from bronze to brass to match our updated kitchen hardware. I also ordered a new custom cushion for the bench and a new rug (newsflash: ruggable rugs are as cool as the ads make them seem). Since you see the mudroom from the kitchen no matter where in the kitchen you are, I wanted it all to tie in. It also now better matches the powder room that is off the mudroom.


Since we were doing all of this refreshing, I didn't want the pantry to feel left out. I loved our old aesthetic, but I thought it would be fun to switch out the baskets for sleeker white bins, and I added huge labels. I love how it looks and they certainly make cleaning easier.



Kitchen Product Details + Links
I compiled all of the specific details and product links for this kitchen makeover in one place for easy reference. Enjoy!
Tile: Equip La Riviera Blanc
Countertops: Sereno Bianco Quartz (Polished)
Cabinet and Trim Paint Color: Benjamin Moore White Dove
Wall Paint Color: Benjamin Moore Navajo White
Kitchen Makeover Summary
Doing this makeover was so much fun! I'm thrilled with how it all came out, and I'm even more happy that we didn't have to do any major internal renovations for this face lift. If you have the desire and budget for a kitchen refresh, I highly recommend it! Like I said, even small changes can make a big difference.
And, if you're ready to get your Kitchen + Pantry (or any area of your home!) organized once and for good, check out my Organizing Bootcamps here.